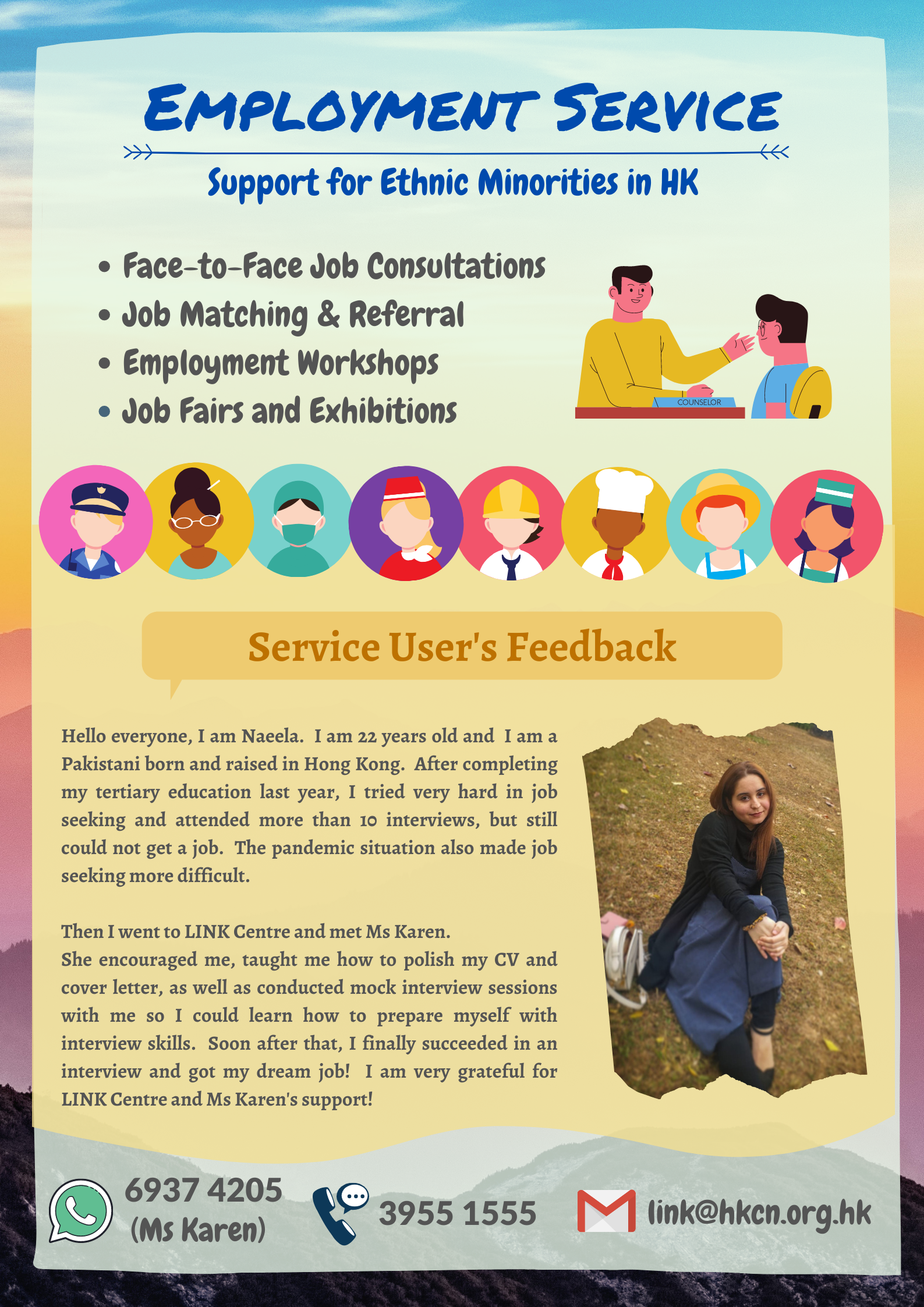 Employment Programme 就業輔導活動 क्यारियर परामर्श गतिविधिहरू  کیریئر کونسلنگ کی سرگرمیاں
Programme Name
Date
Time
Venue
Responsible Worker
Job Seeking in Hong Kong
03/12/2022 (SAT)
3:00 p.m. – 4:30 p.m.
LINK Centre
Karen
Multicultural Job Fair
08/01/2023 (SUN)
2:00 p.m. – 4:00 p.m.
LINK Centre
---
Latest Information
Hong Kong Post Vacancy – Worker/ Worker(Platform)/ Worker(Overnight)
Details of the vacancy and the application procedures are available at 
https://csboa1.csb.gov.hk/csboa/jve/JVE_003.action?jobid=46911&extractDto.mark=&languageType=2&extractDto.showCheckList=Y&extractDto.onlineGF340=Y
The closing date of the recruitment is 29 May 2023.
Recruitment Day at Hong Kong West Job Centre of Labour Department on 23.5.2023
(Ethnic Minority job seekers are welcome)
A Job Fair for Ethnic Minority (EM) Job Seekers would be held at Hong Kong West Job Centre (4/F, Western Magistracy Building, 2A Pok Fu Lam Road, Hong Kong (Exit B1, MTR Sai Ying Pun Station)) on 23.5.2023 (Tuesday) during 2:00pm – 4:30pm.
Many of the vacancies are suitable for Ethnic Minorities.
During the event, the participating employers will conduct on-the-spot interviews with job seekers. On-site Interpretation Service for Ethnic Minorities is available.