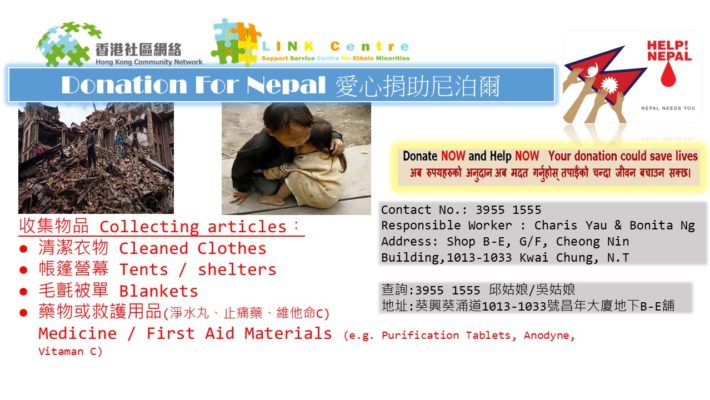 Donation for Nepal
From the news in BBC on 2015-5-12:
A major earthquake has struck eastern Nepal, two weeks after a devastating quake killed more than 8,000 people.
The latest earthquake hit near the town of Namche Bazar, near Mount Everest.
The US Geological Survey said it had a magnitude of 7.4. An earthquake on April 25, centred in east Nepal, had a magnitude of 7.8.
The latest tremor was felt as far away as the Indian capital Delhi, as well as Dhaka, the capital of Bangladesh.
Strong tremors were felt in the capital of Nepal, Kathmandu, that was badly damaged in last month's earthquake.
Please be noticed that:
1, If you know any Nepalese in needs of counseling please kind call : 3955 1561 or 9266 3986, Hong Kong Community Network will provide free support to those in needs.
2,We also welcome you donate the stuffs as the poster showed to us, we will convey your kindness to all the victims in Nepal.
Hong Kong Community expressing the Condolences to all the victims in earthquake happened in Nepal.