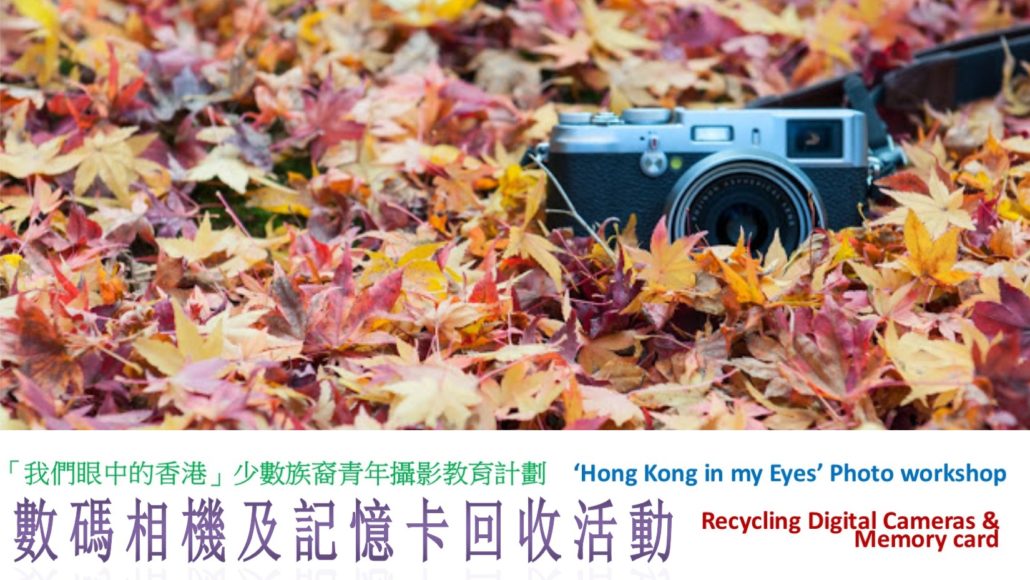 Hong Kong in My Eyes – Recycling Digital Cameras & Memory Cards
Hong Kong in My Eyes: Ethnic Minorities Photography Education Programme
Recycling Digital Cameras & Memory Cards
About "Hong Kong in My Eyes" (HKIME)
"Hong Kong in My Eyes" is an ethics minorities photography education programme which is operated by Hong Kong Community Network-LINK Centre. Through photography workshop, community visit, exhibition and photo album publishing, HKIME photography education programme aims to inspire EM teenagers to explore and express their creative capacities. The powerful medium of photography will instill in teenagers for the interconnection with the community. This programme also bring local and EM teenagers to get closer through the media of art.
Please support HKIME by donating an old digital cameras or memory cards. By donating the digital cameras, it helps EM teenagers to captain Hong Kong in their first-hand exposure.
Requirements of the donation items:
Digital cameras
500 Pixel or above
Memory cards
Card storage: 2G or above
Types: SD / CF
Remarks:
Donated digital cameras should be given with battery charger and rechargeable batteries. Donated memory cards should be intact.
Donated digital cameras and memory cards has to be in proper working.
No return for the donated items.
No money will be given to donors.
Regarding any dispute arising from the activity, the decision of the organization shall be final and binding.
Please delete all photos before donation and no data will be keep for the donated items.
An <Album of Hong Kong in my eyes> will be given to every donors in order to show our thankfulness.
Donation Method:
Please call our Centre by 3955 1561 for the donation arrangement.
Enquiry:
Hotline: 39551561 Ms Dora Chiu
Email: dora@hkcn.org.hk