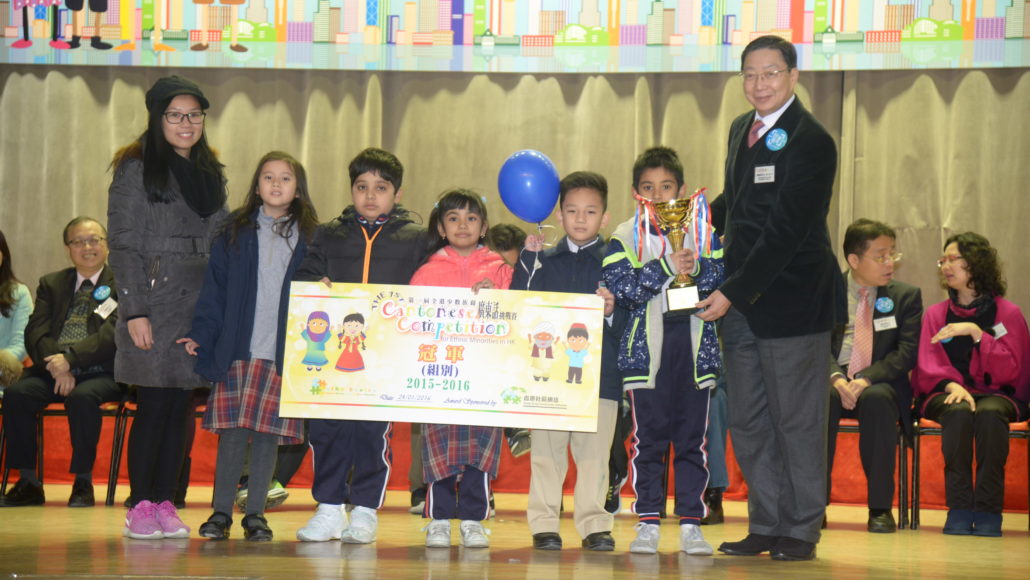 Winners of the final round of the "1st Cantonese Competition for Ethnic Minorities in Hong Kong"
The final round of the "1st Cantonese Competition for Ethnic Minorities in Hong Kong", as well as the Award Presentation Ceremony was held in Tsim Sha Tsui District Kai Fong Welfare Association Hall on 24/1/2016.
More than 80 contestants showed their Cantonese talents on this cold Winter morning. The competition formats include Storytelling, Singing, Drama and Speech. The designated topic for the final round competition is "My Expected Hong Kong". The aim of this competition is to show talents of ethnic minorities and provide them a chance to expressing their opinions towards their expected Hong Kong. We also wish to encourage ethnic minorities to use Cantonese in their daily lives, in order to integrate into the Hong Kong society.
On the event day, Mr Stephen SUI Wai-keung, JP, the Under Secretary for Labour and Welfare, Mrs. Yeung Chan Wai Man, Candy, JP, the Assistant Director of the Home Affairs Department were our guests of Honour to officiate the ceremony. Mr. Suen Kwok Lam MH, JP, the Executive Director of the Henderson Land Development Company Limited, Dr. Kung Yan Sum and Ms. Kung Yan-sun, the Chairman and the director of the Chinachem Group also attended the ceremony to support the contestants. It is also our honor to invite our Cantonese Ambassador, Vivek Mahbubani, the famous stand-up Comedian to give a short comedy show in order to encourage local ethnic minorities in social integration!
About 25 prizes were presented on that day, including primary, secondary and public categories with individual and group entries respectively. We also presented the awards for the Drawing and Coloring Competition. We truly appreciate the efforts made by all contestants, including the 350 contestants in the preliminary round competition. Learning a language is never an easy task and it is a life-long challenge. LINK Centre will continue to do our best to serve ethnic minorities in Hong Kong and assist these talented citizens in social integration!
Lastly, may we take this opportunity to thanks all contestants. schools, teachers, principals and parents in guiding our talented contestants for this competition. Thanks for supporting the education of ethnic minorities in Hong Kong. Wish you all a happy new year and let's look forward to "the 2nd Cantonese Competition for Ethnic Minorities in Hong Kong"!
Media highlights of the event:
1) http://news.mingpao.com/pns/dailynews/web_tc/article/20160125/s00002/1453658650857
2) http://www.ejinsight.com/20160126-pakistani-girls-win-cantonese-competition-with-original-drama/
---
***Primary School Category Winners***
(Individual Champion)
龍家惠 Nagteren Madalena Isabella (PS1014)
PLK HKTA Yuen Yuen Primary School
—————————-
(Individual 1st Runner-Up)
Bibi Alfisa (PS1010)
Tsing Yi Trade Association Primary School
—————————-
(Individual 2nd Runner-Up)
Singh Navkaran (PS1002)
Po Kok Primary School
—————————-
(Individual Merit)
Shrestha Ayusha (PS1015)
Po Kok Primary School
—————————-
(Group Champion)
Mohammad Samina Marcos, Mustafa, Khapangi Magar Prans, Kimberley Anne Corser, Abdul Muhammad Akhtar Febriand, Anwarul Haq Mohmmad Daniyal (PS2007)
Kam Tin Mung Yeung Public School
—————————-
(Group 1st Runner-Up)
Gurung Ashley, Dalani Sahil (PS2005)
Po leung Kuk Lam Man Chan Primary School
—————————-
(Group 2nd Runner-Up)
Saclolo M-Jean, Amien Zain, Ramos Angela Serrato, Thapa Gamriel Singh Legarda (PS2009)
Kam Tin Mung Yeung Public School
---
***Secondary School Category Winners***
(Individual Champion)
Nguyen Thithanh Thuy (SS1023)
Caritas Tuen Mun Marden Foundation Secondary School
—————————-
(Individual 1st Runner-Up)
Singh Amarbir (SS1041)
CMA Choi Cheung Kok Secondary School
—————————-
(Individual 2nd Runner-Up)
Tahreem Fatima (SS1030)
Islamic Kasim Tuet Memorial School
—————————-
(Individual Merit)
花禮立 Farhat Nayab (SS1046)
CMA Choi Cheung Kok Secondary School
—————————-
(Group Champion)
花禮立 Farhat Nayab, Kainat (SS2015)
CMA Choi Cheung Kok Secondary School
—————————-
(Group 1st Runner-Up)
Rahman Safaq Anse, Aayasha Mahmood, Muhammad Iqra Bibi
Ummu Athiya, Aarzoo Jomawia (SS2013)
Islamic Kasim Tuet Memorial School
—————————-
(Group 2nd Runner-Up)
Aksa Shah, Aisha Bi, Muhammad Madiya Naveed, Muhammad Farah Naveed, Khizra Raza (SS2006)
YPICA Lee Lim Ming Collage
---
***Public Category Winners***
—————————-
(Individual Champion)
Khan Hafza Bibi (P1019)
—————————-
(Individual 1st Runner-Up)
Nadya Sukhdev (P1020)
—————————-
(Individual 2nd Runner-Up)
Muhammad Afaq Khan (P1012)
—————————-
(Individual Merit)
Nadia Jamil (P1021)
—————————-
(Group Champion)
Khan Sofia Bibi, Shazia Bibi, Aqsa Bibi (P2004)
—————————-
(Group 1st Runner-Up)
Hina Ashiq, Huma Bi Bi, Irfan Mahmood, Umar Abas (P2001)
—————————-
(Group 2nd Runner-Up)
Shamayam Ijaz, Shakiba Ijaz, Armish (P2007)
---
***「最積極支持少數族裔學生榮譽學校」***
Islamic Dharwood Pau Memrial Primany School
Kam Tin Mung Yeung Public School
Islamic Kasim Tuet Memorial School
YPICA Lee Lim Ming Collage